Looking for A BIRTHDAY PARTY CLOWN WHO DOES MAGIC?
Need help entertaining all those children that are coming to the birthday party???
Download a free birthday party tip sheet
"Thank you so much for making Isaac's 5th birthday party a memorable one. All the kids enjoyed the magic show and balloons. Everyone was laughing so hard, even the us big kids! I'm so happy that I came across your website and found you and will definitely recommend you to others in search of a fabulous clown entertainer!"
Kim, Kevin and Isaac
Your child will be the STAR of the MAGIC SHOW?
Do you want the rest of the children laughing and talking about your child's party for months?
https://vimeo.com/97349102
Do you want to enjoy your child's birthday party? Sit down? Enjoy some food? Talk to another adult? Have FUN? Maybe even enjoy the MAGIC SHOW yourself?
Do you want the other adults to say "WOW! That was FUN!"
Do you want your child to say "Thanks mom, that was the best birthday party ever. I love you!"
WHO ELSE BUT…. SMARTEE PANTS?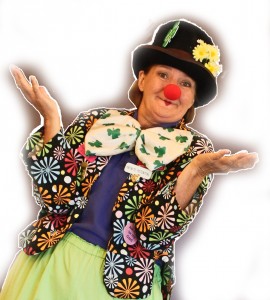 FAMILY COMEDY MAGIC SHOWS where ever you
Interested in finding out what do I do? Click here
Amanda O'Leary as Smartee Pants the Clown             604-726-4896